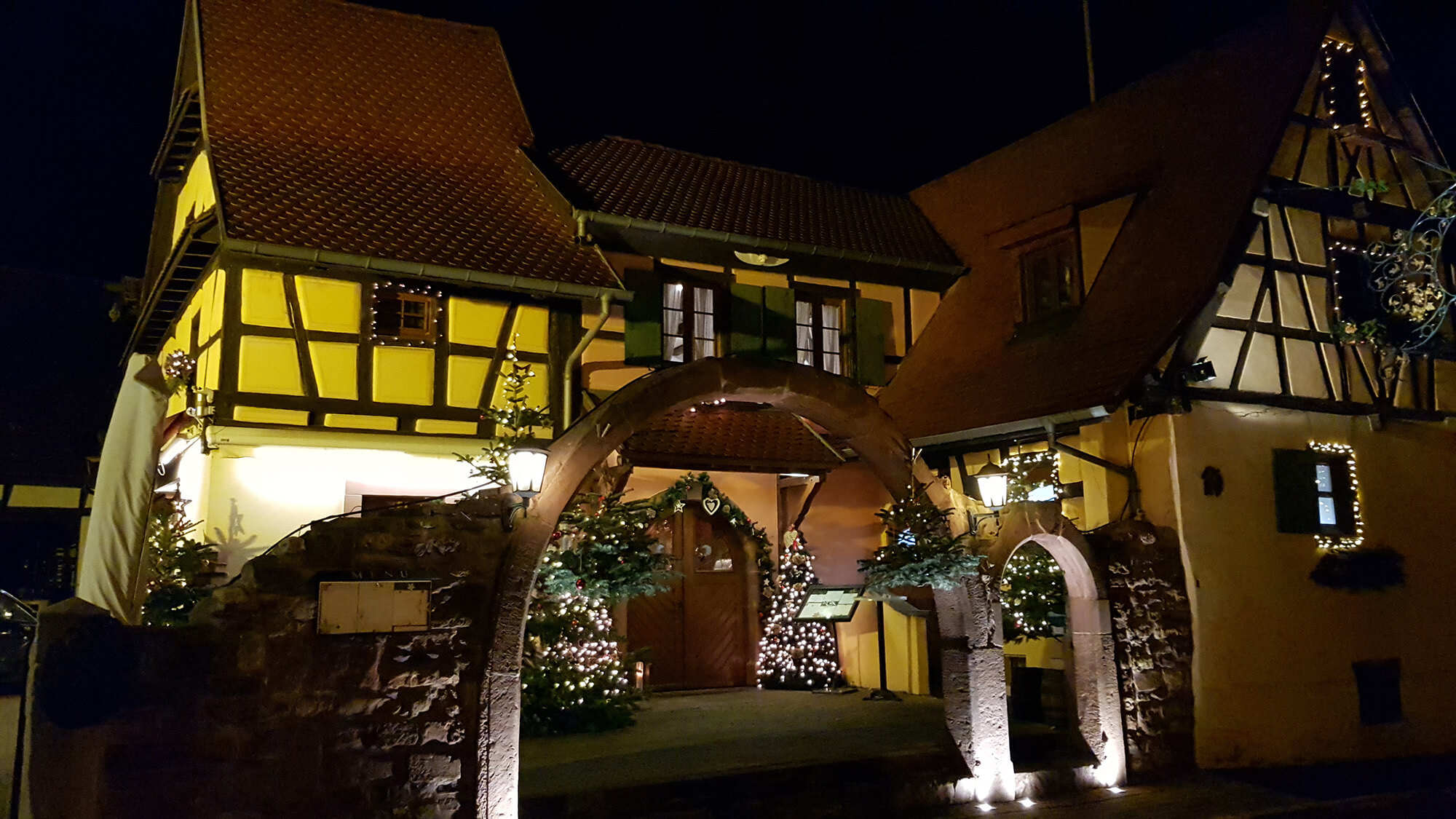 Christmas in Eguisheim
The birthplace of the Alsatian vineyards
HISTORY AND HERITAGE
Éguisheim, the birthplace of the Alsatian vineyards in the Upper Rhine, is an ancient fortified village with 1850 inhabitants. It is comprised of 339 hectares of plots with a particularly rich heritage, nestling between various small valleys with vines growing along the hillsides.
Strategically located between Colmar, Strasbourg, Fribourg and Basel, this typically Alsatian winegrowing village is today internationally renowned for its ramparts, its picturesque narrow streets, its fountains, its flower-decked half-timbered houses, its Gothic church and for having been the birthplace of Pope Leo IX.
The village's Romanesque charm and its sumptuous architectural heritage make this a "must-see" attraction during your visit to Alsace ! Guided tours are available all year round and the gourmet restaurant "Le Vieux Porche" will be delighted to welcome you for a meal prepared by our chef, who has been awarded the "chef d'Alsace" quality label.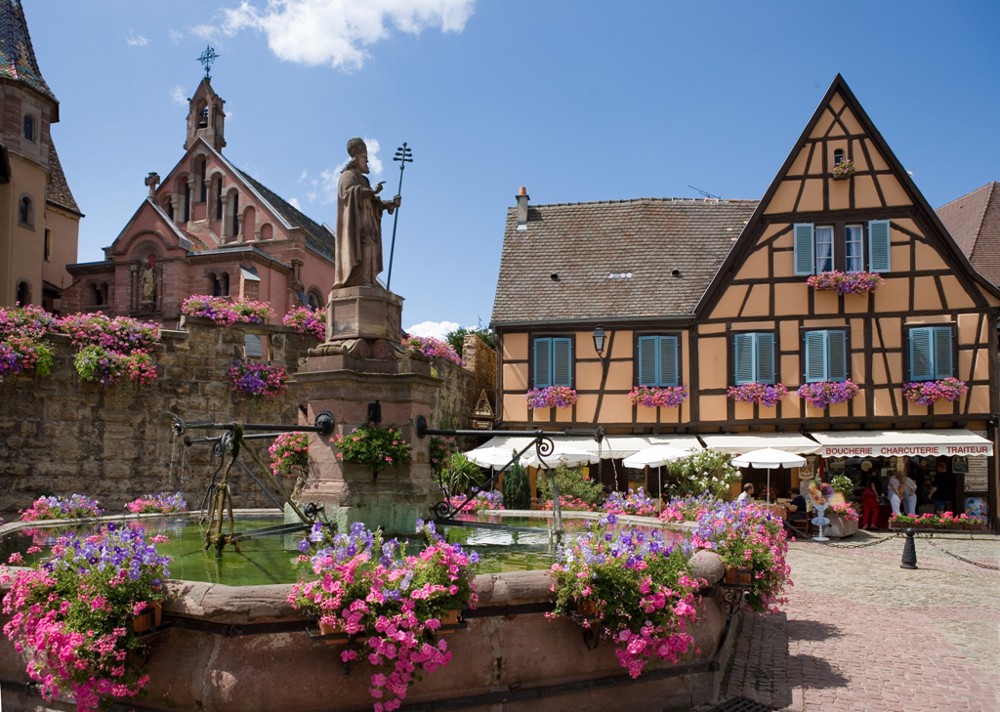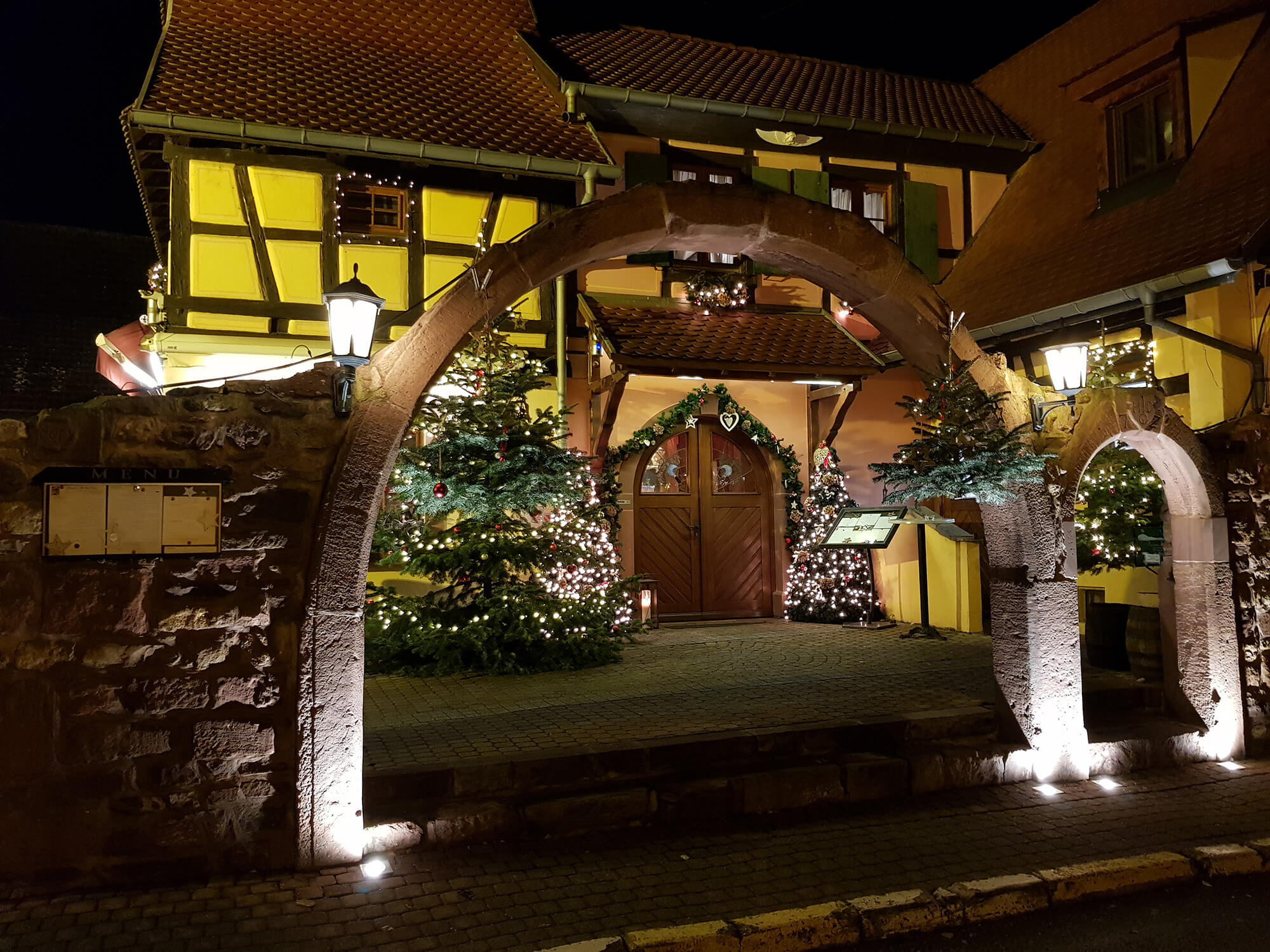 We taste in Alsace a magnificent Christmas !
THE AUTHENTICITY AND TRADITION OF ALSACE'S CHRISTMAS MARKETS
Enjoy the sparkling lights, the warm and friendly atmosphere and the gentle fragrance of cinnamon or spices… Get ready for a Christmas the likes of which you've never known before when you visit Alsace. As part of the Pays des Étoiles de Noël (Land of Christmas Stars) the village of Éguisheim is joyfully illuminated for Christmas, much to the delight of young and old alike.
During the Advent period, the Alsatian Christmas craft market is to be found in the village centre. In addition to all the magic of Christmas in Alsace, Éguisheim is also the holder of the "Villes et villages de Noël" quality label (Christmas towns and villages), awarded in recognition of the authenticity and quality of the Christmas markets found in certain Alsatian villages.
TAKE THE SHUTTLE
A number of shuttle buses are available during the Advent period to drop visitors off in the village of Éguisheim, but also to help you discover those of Colmar, Riquewihr or Kaysersberg, in an extremely ecological and practical way!
Prices: €8 per day at weekends, €5 per day from Monday to Friday. Free for children under the age of 12.